Privacy notice
When a booking is done the customer accepts that JL Guiding and Consulting AB stores and uses the Customer data for JL Guiding and Consulting AB activities to fulfill the agreement to the customer.

Travel Guarantee
All our overnight arrangements are sold with travel guarantee according to the TRAVEL GUARANTEES ACT. For more information contact the Legal, Financial and Administrative Services Agency: +46 8 700 08 00 or visit www.kammarkollegiet.se.

Booking
A booking is made on our website, via mejl or by phone.

Deposit
The deposit is 50% of the total price of the package. This fee is part of the payment and must be paid within 7 days from receipt of your booking confirmation.

Final payment
Unless stated otherwise, the balance due on a trip is to be paid upon arrival. When paying upon arrival you will be charged in the amount in SEK specified on the invoice. The balance can also be prepaid using bank transfer. JL Guiding and Consulting AB will send an invoice and a recommended packing once received the deposit and all information about the participants.

Travel plan
We reserve the right to make changes in the itinerary. Changes might be needed for circumstances not known earlier or for making a better trip.

Pricing
Pricing is subject to change without notice any time prior to reservation. We reserve the right to change the price if circumstances not known in advance would occur, (i.e. higher transportation cost etc.). You have the right to cancel a trip without charge if a price change of more than 5% would occur.

Cancellation policy
Cancellations 30 days before arrival will be repaid to the client with a deduction for half of the deposit.

Cancellations later than 30 days but earlier then 14 days from arrival the client will loose the full deposit.

Cancellations shorter then 14 days from arrival the client will pay the full price and no refund is possible.

Insurance
All clients are responsible to make their own arrangements for their insurance policy. We recommend all guests to have travel insurance.

Passport and visa
All clients are responsible for having a valid passport and visa if needed depending on nationality. If the client cannot start the activities due to an invalid passport, visa or anything else concerning these documents, no money will be repaid.

The client must ensure that all travel documents are correctly spelled according to their passport and visa.

Most nationalities do not need a visa for Sweden.

Cancellations by JL Guiding and Consulting AB
We reserve the right to cancel a group trip if there are too few participants.

A notice of a cancellation will be given latest 30 days before arrival. We also reserve the right to cancel a trip due to force majeure. If the trip is cancelled by us, the deposit will be returned. We will however not be responsible for money spent by client(s) for trip preparation prior to our cancellation

Force majeure
JL Guiding and Consulting AB will not be held responsible for situations out of our control, such as (but limited to) strikes, weather, war, or other situations like that. We will try to find a solution but will not be econmically responsible for flights, transportation or other changes.

Complaints
Please notify your guide immediately in the case of complaints.

Other
Anyone not acting in a safe and/or sportsmanlike manner in the opinion of the guide may be made to leave and no refund of any kind will be offered.

All participants accept the rules when they book a package.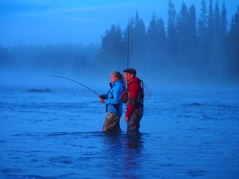 Booking Info 2023:

Full booked

Ask for price if you are a bigger group, if you want a bigger cabine or want a special package at any time!

Ask me if you need help to find a fishingguide, lodge or other service and i will try to help you to get your dream fishing!


Booking Information

Please contact me with a mail to guidejesper@gmail.com and get a available week and preliminäry booking of the week that you want!

Payment Information
Company: 
JL Guiding and Consulting AB
Org.nr: 559000-0955
Owner:
 Jesper Larsson

Bank: 
Sparbanken Nord, Pajala
BIC:
 SWEDSESS
IBAN:
 SE4880000826440630980860
Bank giro, Sweden: 
5086-5914

Jesper.Larsson
+46(0)730-47 31 78
guidejesper@gmail.com
www.jlguiding.com